Back in full swing
The team of Bamboo Group returned to Barcelona to take part in the 2023 edition of the biggest mobile tech show of the year, Mobile World Congress.
From February 27 to March 2, Vladislav Herchykau, Natalia Minayeva, Anna Boiba, Maxim Leykin, and Natalia Puchalskaya were busy networking, sharing industry expertise, exploring tech trends, and showcasing the new project demo from Bamboo Apps to the audience of MWC 2023.
One thing became clear very quickly: the recovery period was over. The MWC everyone knew and loved was back – and 2023 marked the year when Mobile World Congress returned to its pre-pandemic number of attendees, welcoming almost 100 thousand visitors into the halls of Fira Gran Via (an uptick of about 30,000 people compared to last year).
The number of countries present had also increased compared to the past couple years. This time around, MWC saw attendees from over 200 countries, with around 70 ministers and over 100 heads of regulatory authorities discussing the present and future of technology.
New exhibitors, new trends
This year, Fira Gran Via featured over 30 national pavilions from: Argentina, Austria, Belgium, Brazil, Germany, France, Spain, Italy, Denmark, Finland, Switzerland, the Netherlands, Romania, Estonia, Lithuania, the UK, the US, India, Japan, Korea, Turkey, and Tunisia.
As far as companies go, no major connectivity players seemed to be missing – all the big regulars were present. Nokia, Xiaomi, Lenovo, Samsung, Motorola, and Huawei showcased their revolutionary hardware designs, including self-repairing phones from Nokia, laptops with rollable screens from Lenovo, and AR glasses from Xiaomi, just to name a few.
From the famed Hyperloop presenting its teams' engineering prowess, to digital clones by Alt Inc, to flying taxis by SK Telecom Co, to robot companions for the elderly by Eurecat, to software that let dog owners identify their pet using a noseprint scan from Petnow – there was plenty of innovation to go around.
There were, however, noticeable changes in a couple industries that deserve special mention.
Automotive and Mobility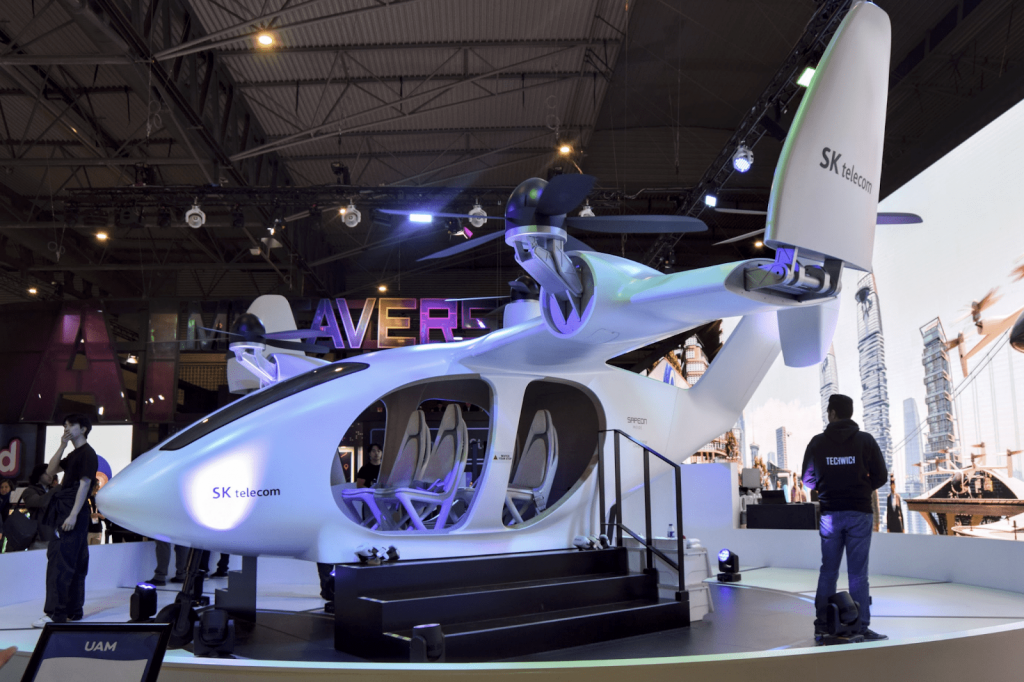 Unlike before, MWC 2023 did not have any automaker booths. Instead, OEMs chose to scout for potential partners and solutions as visitors. This gave way for more young startups to display their projects to potential investors.
A large portion of Automotive and Mobility projects are currently converging with Smart City tech. Almost all Mobility projects present at the exhibition were related to V2X, as well as V2X-reliant autonomous driving.
Qualcomm exhibited its latest Snapdragon Digital Chassis, which is engineered to provide cloud-connected digital services to vehicles.
Harman Automotive showcased its newest V2X capabilities with 5G TCU and the Harman Savari MECWAVE, which will be used as part of a newly revealed collaboration with the American Center for Mobility (ACM).
Quectel Wireless Solutions, an IoT solution provider, announced their latest dual SIM service solution, primarily aimed at the automotive industry.
This MWC also saw the launch of CARIAD – a uniform app store for vehicles under the Volkswagen Group brand. Audi is the first company to implement it, and others will follow suit. The software can integrate with third-party services, such as Spotify, the Weather Channel, TikTok, Home Assistant, and more. According to the product owners, it's a huge milestone in providing a new level of digital in-car experience.
Telecommunications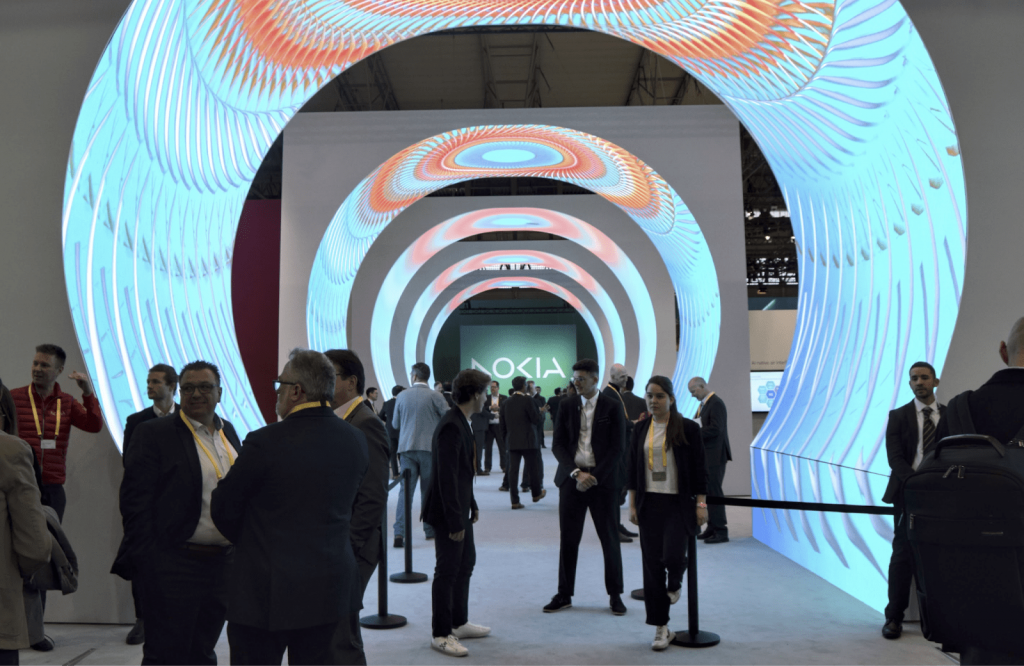 The Telecom industry is showing great interest in IoT technology and 5G networks.
Nokia officially unveiled its shift away from phones and towards network and digitization solutions. The company announced the successful launch of end-to-end 5G data calls through its anyRAN initiative before the event, and introduced its Airscale Massive MIMO radios that enhance 5G capacity and coverage.
Vodafone showed a demo of a prototype 5G network built on a small silicon chipset and a Raspberry Pi computer the size of a credit card. It will enable users to seamlessly expand the 5G coverage of private and portable 5G networks.
Various network operators are willing to provide special SIM cards for smart household appliances such as washing machines and refrigerators. The cards will collect and send diagnostics data directly to a service centre in case of malfunction.
Broadly speaking, Telecom operators are looking for new monetisation avenues. And software development companies are ready to deliver: this year, the majority of national stands showcased solutions in telecommunications and connectivity. Though, considering MWC's roots as a Telecom technology expo, it's not too surprising.
XR and Spatial Computing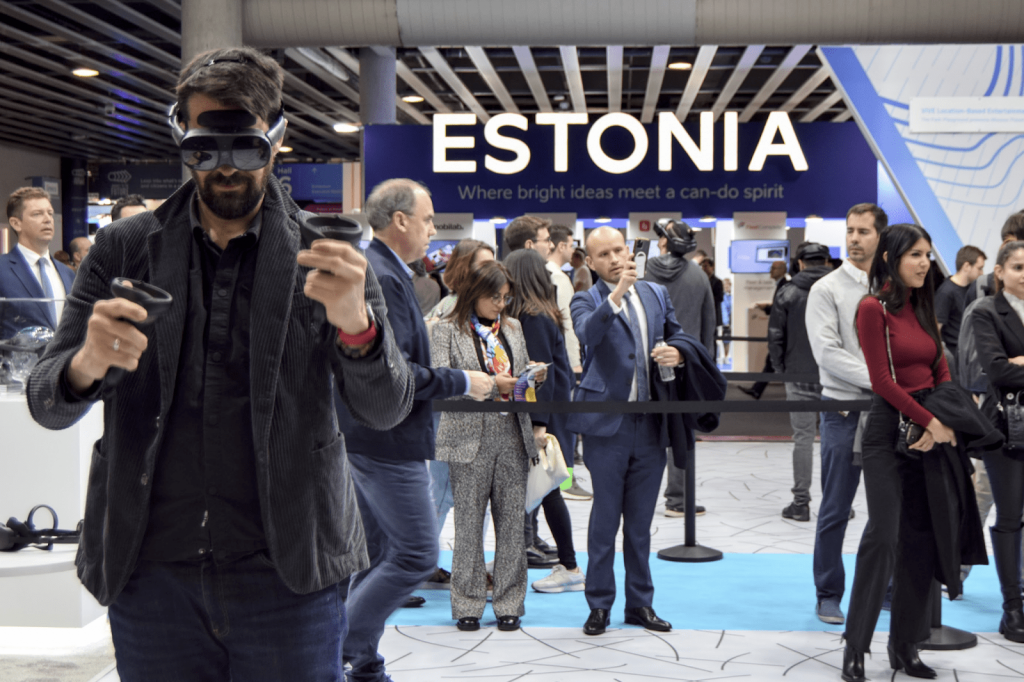 AR, XR, and Spatial Computing were very prevalent at MWC 2023, more than ever before. The Congress was brimming with augmented and extended reality releases from not just the Metaverse, but from Xiaomi, Oppo, Lenovo, ZTE, TCL, Vuzix, and others.
Xiaomi introduced an AR headset and a pair of AR glasses, both powered by Qualcomm's Snapdragon AR2 Gen 1 platform. Said platform was specifically designed for mobile AR use, meaning users can link their headset to a Snapdragon 5G smartphone.
ZTE made a lot of noise at this MWC with two announcements in spatial computing: the ZTE Nubia Neovision Glass headset and the ZTE Nubia Pad 3D. The latter allows users to view and create 3D and holographic content without the use of a headset.
Nokia showcased its spatial audio technology for conference calls, which allows people to hear where different call participants are speaking from. This makes large group calls feel more natural and easier to follow.
The Snapdragon Spaces developer platform by Qualcomm was quite popular at the event: XRAI showed off their ChatGPT-powered real-time translation app built on it, and Mixed.World used Spaces to help launch a business class cabin with a multi-user interactive AR experience for Lufthansa.
Artificial Intelligence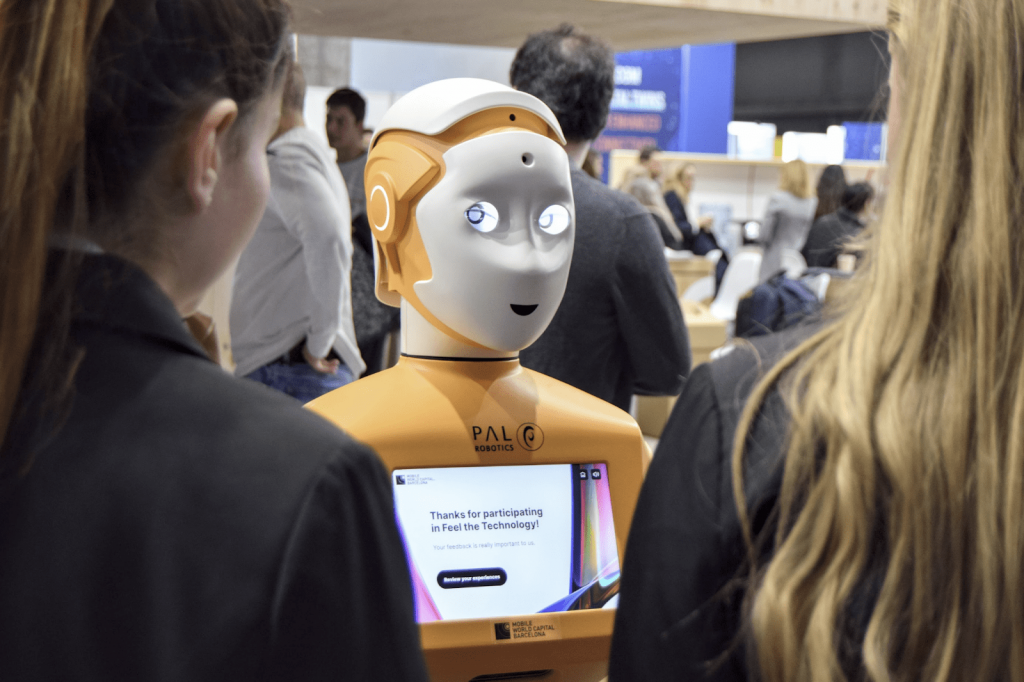 ChatGPT and generative AI as a whole were some of the biggest keynotes at MWC 2023. It was a rather unexpected turn of events: the co-CEO of Iconiq, Lauren Kunze, stated that 2022 was meant to be the year of the metaverse, but by the end of it, AI stole the show.
Qualcomm demonstrated Stable Diffusion (a large language model primarily used for image generation) running entirely on an Android smartphone, without the need to connect to the cloud.
Biped.ai showed off a smart AI-powered harness that sits on the user's shoulder. It identifies surrounding objects and predicts their trajectories with 3D cameras to guide blind and partially sighted people with sound delivered through bone-conducting headphones.
Numerous brands showcased their AI solutions for addressing the growing concerns of privacy and data security. IBM revealed their Privacy-Preserving Machine Learning Toolkit and Google showed their Differential Privacy LibrarySeveral.
AI and machine learning algorithms have penetrated almost all areas of technology at MWC, with it being widely employed in AR, Spatial Computing, Smart Cities, 5G, Telecom, Automotive, and many other projects.
Bamboo Group at MWC 2023
Exhibiting with Enterprise Estonia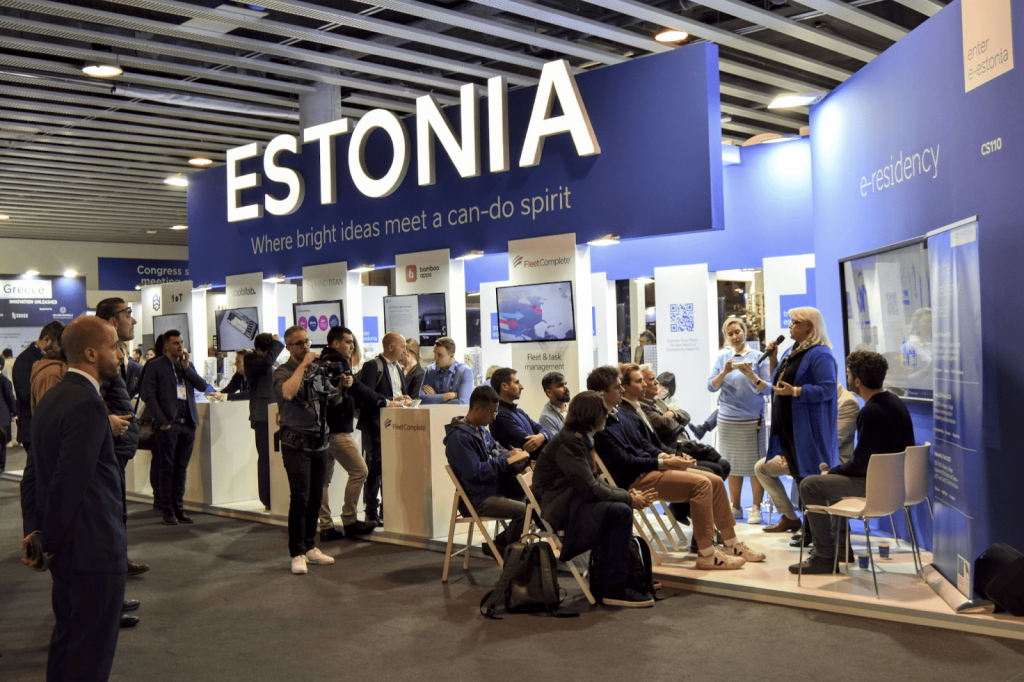 Bamboo participated as part of the Enterprise Estonia stand together with 13 other featured companies, including FleetComplete, SK ID Solutions, Axinom, B.EST Solutions Estonia, Mindtitan, and others.
This year's pavilion was located at CS110, Congress Square. For the first time ever, it featured a special presentation zone, where EAS speakers discussed different facets of e-Residency. This included speeches on the topics of:
Government Beyond Borders – Lessons Learned When Adopting the World's First Digital Identity;
Borderless Entrepreneurship in the Marketing and Media Industries;
Empowering the Public Sector and Spaces – LatEST and GreatEST Tech from Estonia.
The area itself was well-organised, with plenty of space and tables for meetings. EAS also held a happy hour with treats and drinks for visitors, which, combined with everything mentioned above, attracted a good crowd to the stand.
IVO project demo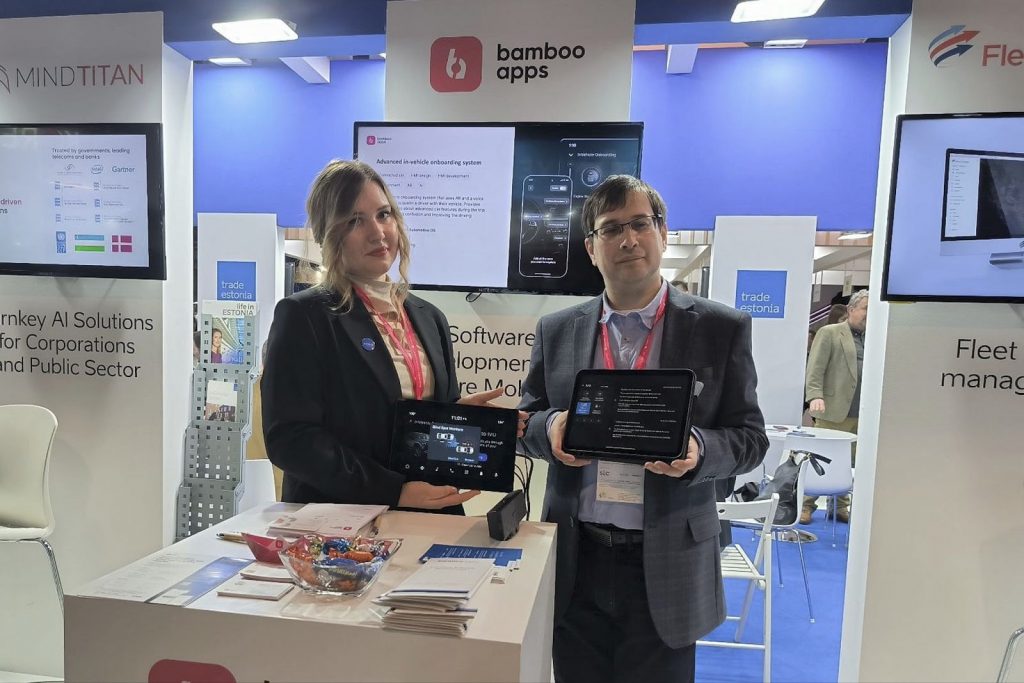 Bamboo Apps presented the demo of IVO – a revolutionary In-Vehicle Onboarding system. It uses AR and machine learning to get drivers acquainted with their vehicles, ensuring safety and comfort on the road. The software features:
an augmented tour around the cabin via the mobile app;
a step-by-step guide in the mobile app or the vehicle's infotainment system (text or voice-based);
a smart voice assistant that presents contextual tips during driving and responds to user inquiries;
a simplified manual that can be checked at any time.
This MWC, the audience was able to get their first taste of the IVO experience with a public demo.
To that end, our team set up a screen imitating an in-car infotainment system, where visitors could interact with the smart voice assistant, ask it about different car functions, and receive suggestions. They could also try out the AR mobile app: users would aim the phone camera at different car components and the software would explain their functions.
The project was well received: people got behind the idea right off the bat and provided lots of positive feedback. The Bamboo Apps stand itself also attracted a lot of attention. It was highly interactive, with high-quality IVO video demonstrations and company presentations playing non-stop.
Building connections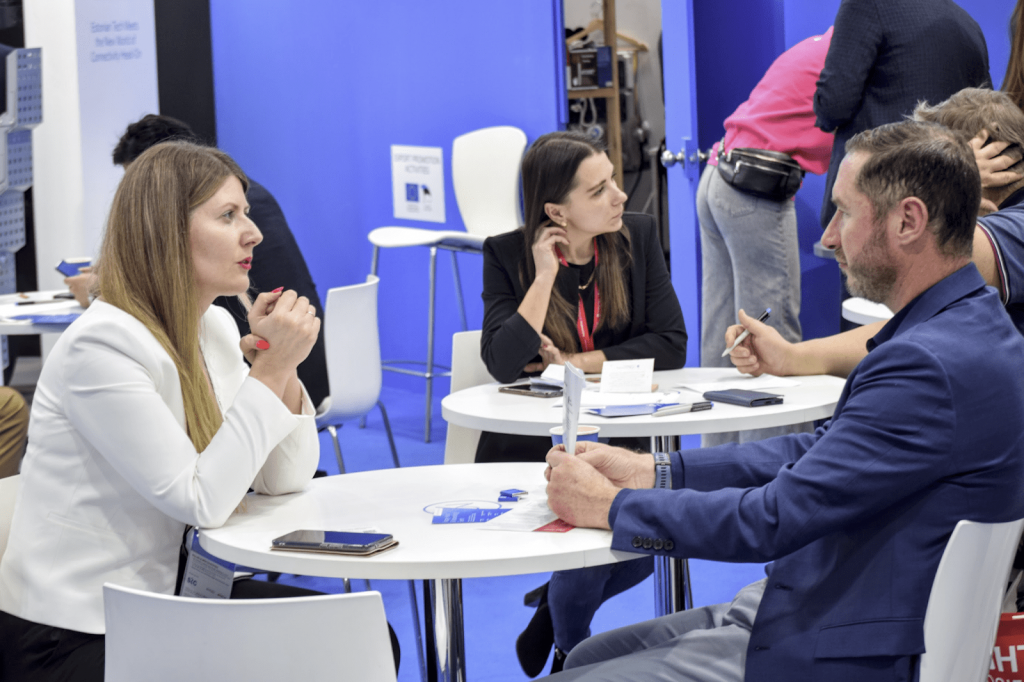 MWC is in large part a networking event, so the team of Bamboo Group spent a lot of time meeting with old friends and potential new partners, as well as members of the press.
From the Automotive side, we've had the pleasure to share expertise with Harman, Volkswagen, Subaru, Bosch, SEAT, Airbus, and i.am.auto. On the side of Telecom, we've held interesting discussions with Vodafone, eSAT Global, Velos IoT, and A1 Austria Group.
"We were also happy to meet and strengthen our old connections, as well as many other guests from the mobility and connectivity fields, companies working with indoor positioning and navigation technologies, investors, colleagues, and all the tech enthusiasts who took interest in our projects," says Natalia Minayeva, the Strategic Partnerships Executive of Bamboo Group.
What next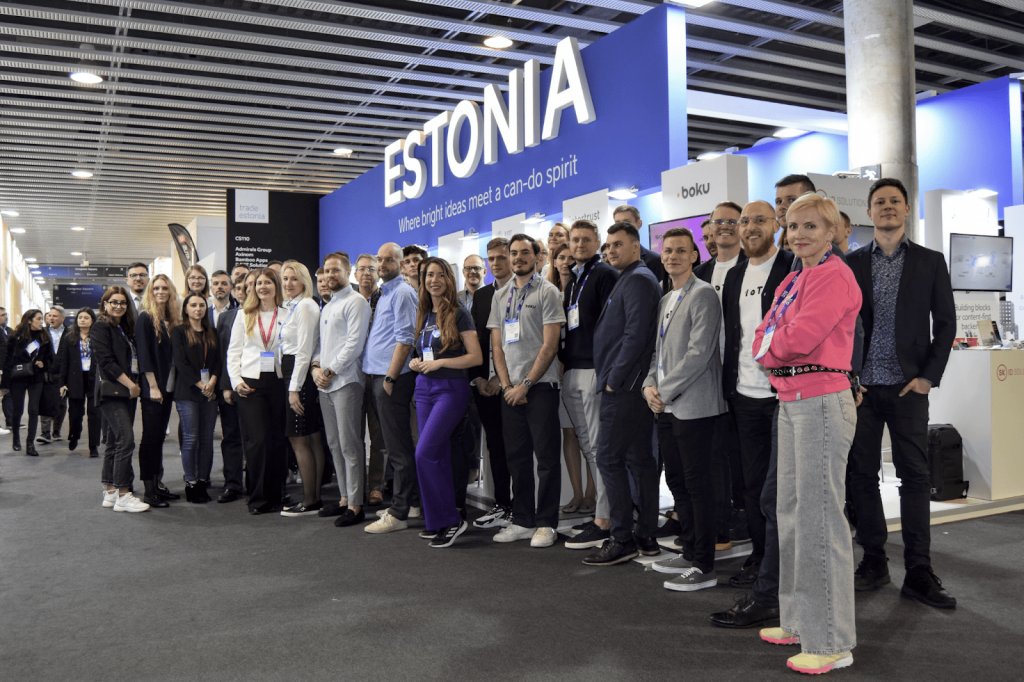 Keeping the current industry developments in mind, Bamboo Group will continue to push the envelope with innovative software solutions and develop meaningful partner relations with colleagues across the globe.
We want to express our gratitude to everyone who showed interest in our projects at this MWC, and hope to bring you even more exciting technologies next year.