"We work to discover new and improve the existing revenue streams where others are afraid to take on the challenge!"
Constantly identifying market opportunities for business growth and scaling, investing in research and development, and cultivating a how-to thinking mindset, we foster a collaborative and productive work environment for maintaining long-lasting relationships with our clients and partners, and continuously deliver high-quality products and services.
INDUSTRIES WE ARE TRANSFORMING
Our billing solutions drastically improve the experience of each transaction, delivering a simpler and more secure way for making payments.
Bamboo Group creates apps for vehicles by delivering expert level services in ideation, design, software development, and project management.
Our education solutions leverage top-notch technologies and excellence in pedagogy to deliver contemporary methods for instruction, assessment, and performance control.
We build bespoke standardized applications for patients, medical professionals, and fitness companies to optimize the workflow and provide the best customer service.
By implementing collaboration and network solutions, we change the role of IT in the public sector and transform conventional processes to help institutions reach operational efficiency.
As an official Shopify partner, we enable a digital shift for retail businesses by setting up scalable online stores enhanced by special e-payment systems.
Trusted by 60+ mobile operators, we provide platform integrations enabling subscribers to stay connected to the brands and ubiquitously access the content of their choice.
We bring efficiency to marketing and customer care providing businesses with bulk SMS/Viber campaigns, and outsourced call center carrying out customer surveys, accepting orders, etc.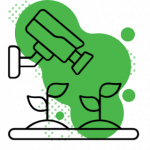 We help agricultural holdings boost their business' productivity with advanced agricultural solutions for streamlined farm and machinery monitoring, forecasting, and automation.
OÜ BAMBOO GROUP AT A GLANCE
Bamboo Group OÜ is an international group of IT assets operating in more than 20 countries. Founded in 2002, the company is headquartered in Tallinn, Estonia and maintains offices in Eastern Europe, Africa, Central Asia.
Our Branches: Tallinn (Estonia), Nairobi (Kenya), Kuala Lumpur (Malaysia).
Registered on NASDAQ OMX.
Contact us today to find out about how our services and solutions can be integrated into your business.