Introduction
In the midst of the ever-evolving technological landscape, GITEX, the Gulf Information Technology Exhibition, stands as one of the brightest landmarks of worldwide innovation and opportunity. This year, Bamboo Group returned to Dubai to experience the 2023 edition of the much anticipated expo.The team set out to uncover the latest tech trends, connect with industry leaders, and soak in the vibrant atmosphere of one of the world's most significant tech events. Today, we'll recap the biggest topics and exhibitors of this year's GITEX Global and see how they compare to the event's past iterations.
Overview. A bigger stage for tech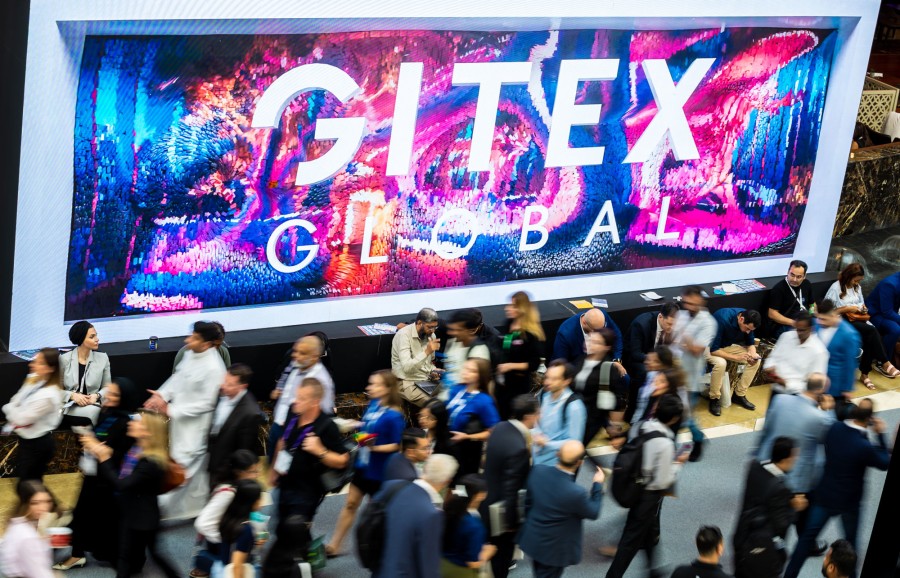 For starters, this 43rd edition of GITEX was held at a much bigger scale, welcoming around 600,000 visitors and over 6,000 exhibitors into its 41 halls, with the core venue being the Dubai World Trade Centre. This made for a high-tempo dynamic atmosphere – one that was lively, yet not chaotic.
The latter was in large part thanks to thoughtful planning, made palpable with the number of helpful volunteers, rest spots, cafes, and smoke zones, as well as the measures taken to ensure ease of navigation.
GITEX Global 2023 felt like yet another step up from the events of years prior. With thousands of captivating technologies and exhibitors brightening its many pavilions, the conference really captured the feeling of a technological wonderland come to life.
Exhibitors. Country and company highlights
Country stands
As to be expected, the event welcomed exhibitors from all across the globe: from over 170 countries, in fact. The national stands spanned everything from the USA and Canada, to the EU, Hungary, Romania, and France, to Pakistan, India, China, South Korea, and Japan – and that's just scratching the surface.
The Estonian stand was as impressive as usual, with a great variety of exhibitors and technologies presented, showcasing everything from innovative automotive, e-SIM, and fleet applications to printing solutions. The shuttle by Auve Tech was especially impressive, giving visitors a peek into the future of green autonomous transportation.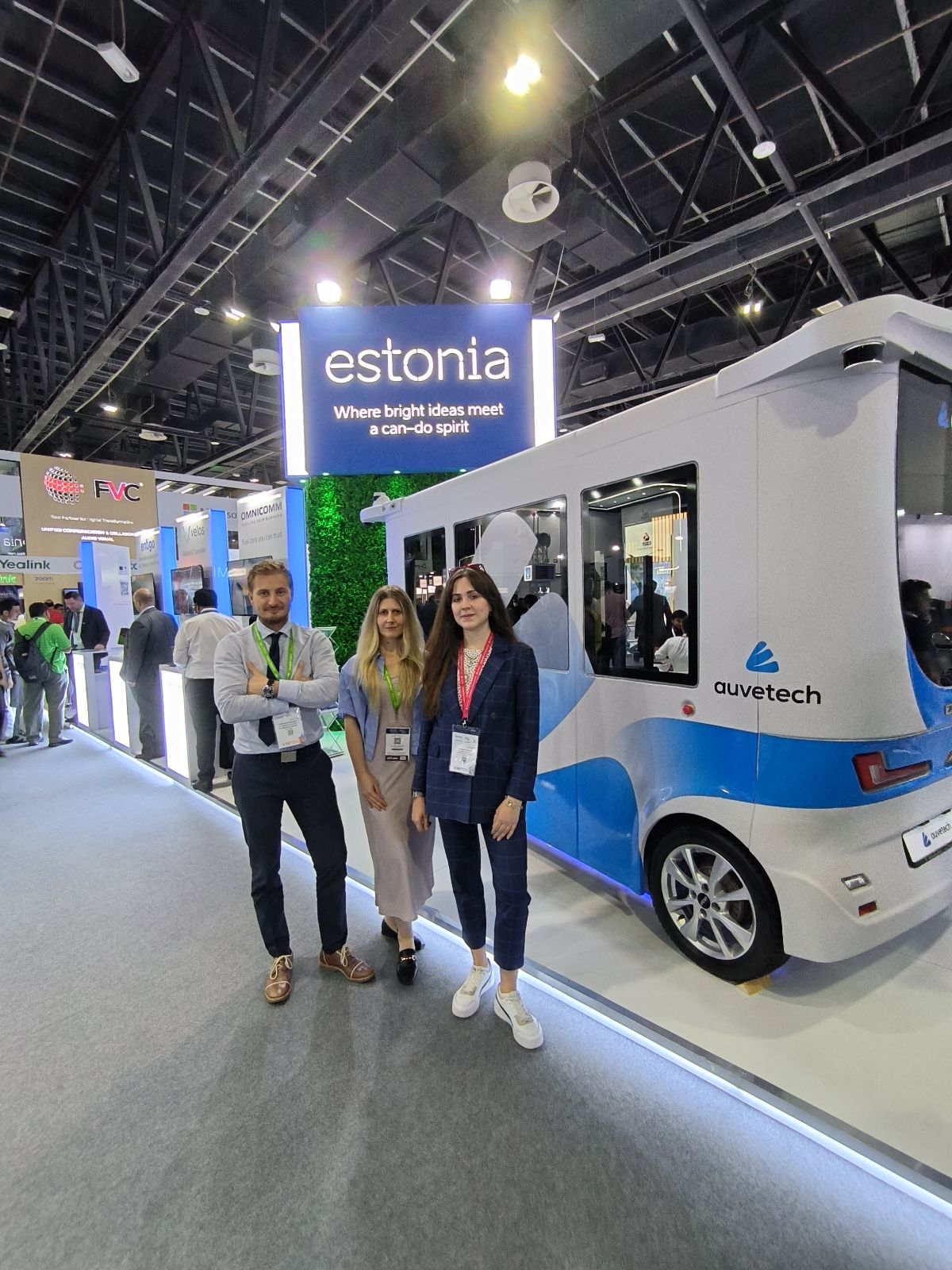 The stands from local government structures were a sight to behold. These held a separate pavilion and featured the Dubai Municipality, the Road and Transport Authority, the Police Department, and others – all very luxurious and memorable stands.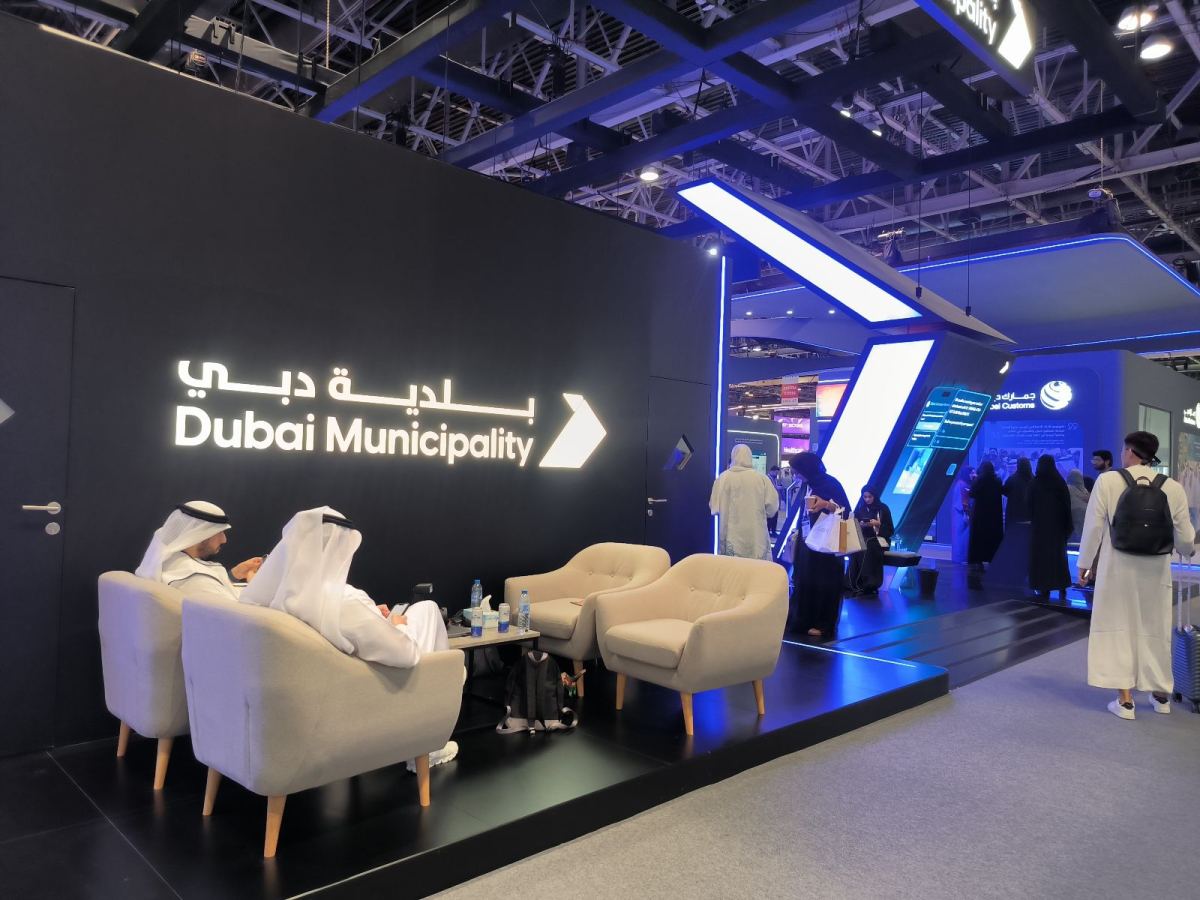 The Saudi Arabian stand also left an impression, being one of the biggest and most visually striking displays of the entire expo. Similarly, India and Pakistan stands were some of the strongest at the exhibition thanks to both their scale and the technologies on display.
Company stands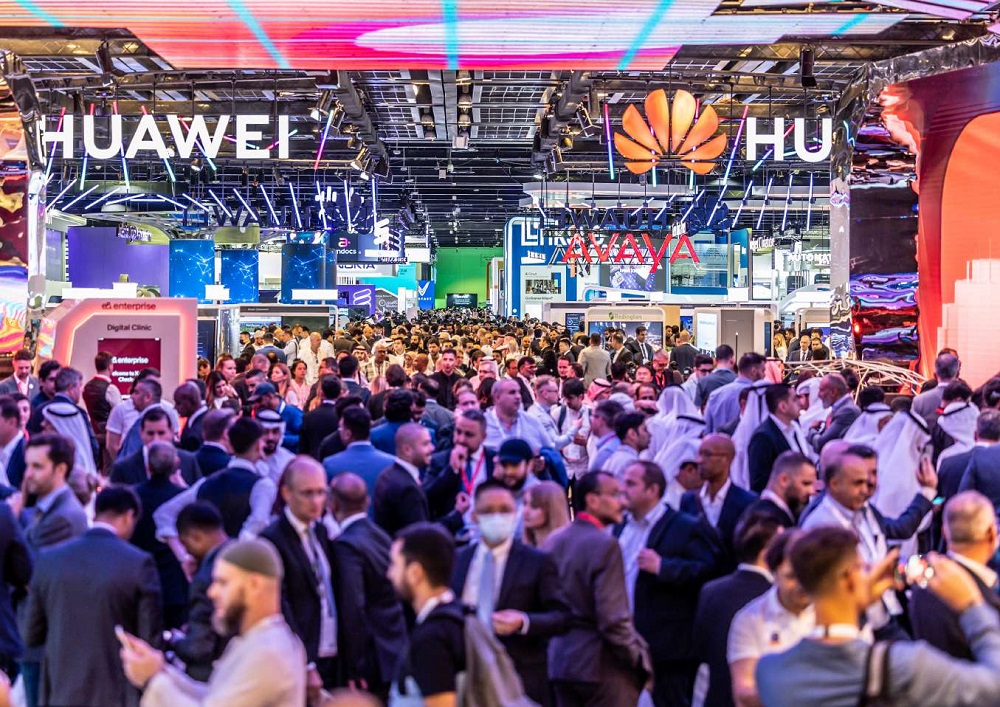 This year's GITEX welcomed the usual heavy hitters: Microsoft, Huawei, Jabra, Northstar, Adobe, Amazon Web Services, and many others. 2023 had also marked the debut of some big industry players: for one, SalesForce joined GITEX this year as both an exhibitor and a sponsor.
As far as smaller companies go, a number of pavilions were dedicated to specific types of tech firms. To begin with, an entire separate pavilion Devslam was allocated to software development companies.
Startups also got their very own pavilion, labelled Dubai Harbor. This massive space with its own subpavilions featured hundreds of startups from across the globe: Canada, Egypt, the States, Belgium, Nigeria, countries of the Arab world.
Other memorable stands
Among the thousands of company and country stands on display, a couple left an especially strong impression.
ViewSonic, a Taiwanese-American company focused on display and projector solutions, presented a huge eye-like spherical monitor, which made for a very memorable setpiece. H3C, a leading Chinese provider of digital solutions, is also worth a mention, thanks to the multicoloured moving lights installation above their stand.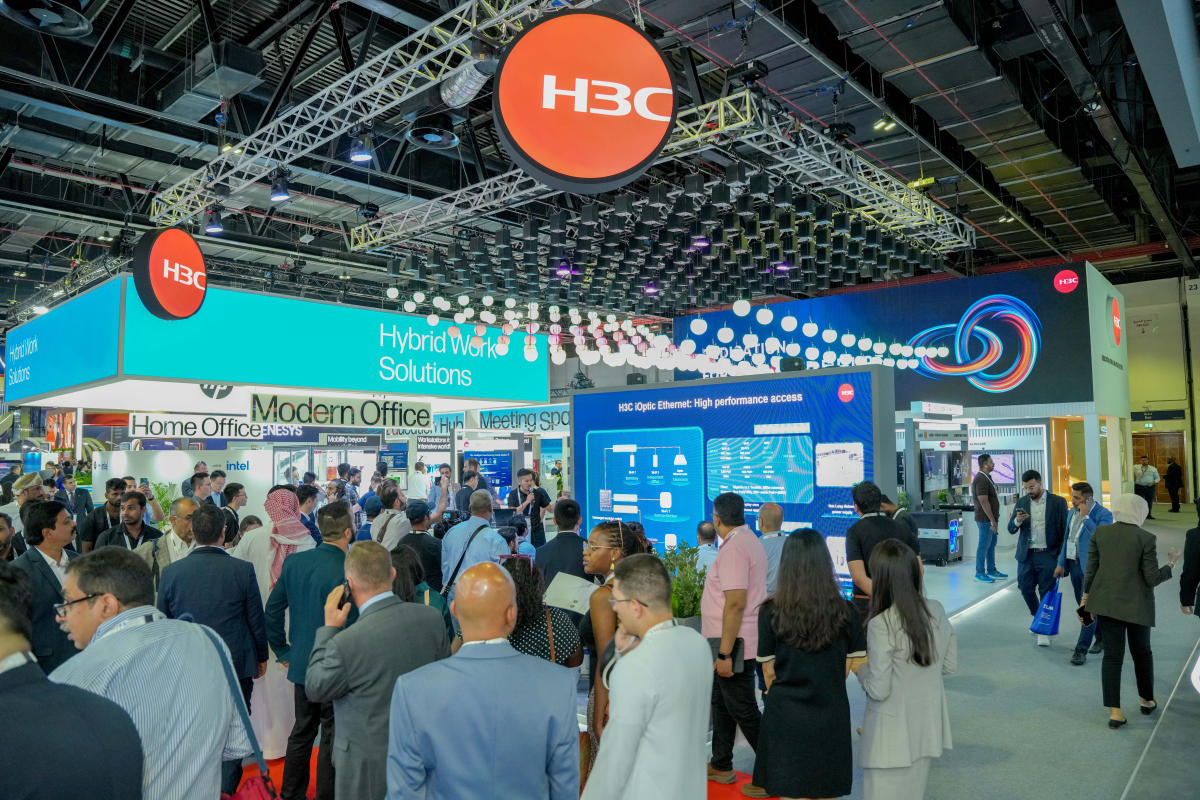 Gurtam, a leading developer for GPS monitoring, vehicle telematics, and fleet management software had a large showcase, too. Their GPS tracking platform for fleets Wialon was especially prominent, having built its own IoT zone with GPS padlocks, trackers, and AI video cameras.
ETisalat, an Emirati-based multinational telecommunications services provider, showcased several futuristic solutions from the realm of Automotive and Mobility. This year their stand demonstrated high-tech shuttles and a revolutionary helicopter taxi – we'll talk about it in more detail later.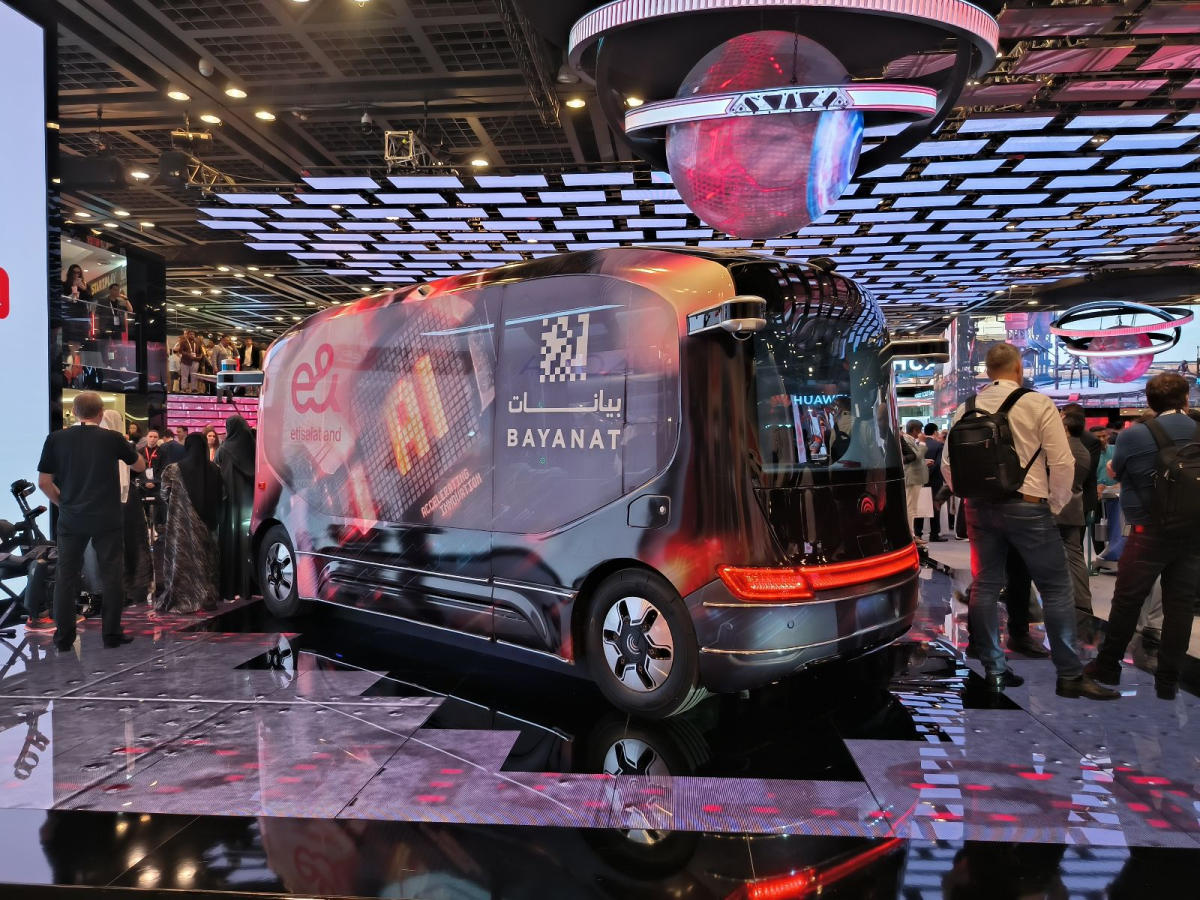 Continuing the theme of automotive advancements, this GITEX, Mercedes presented VISION EQXX and VISION One-Eleven. VISION EQXX is a research prototype focused on electric and sustainable transportation in the digital age. At the same time, the VISION One-Eleven concept car presented a futuristic design for a sports car of tomorrow.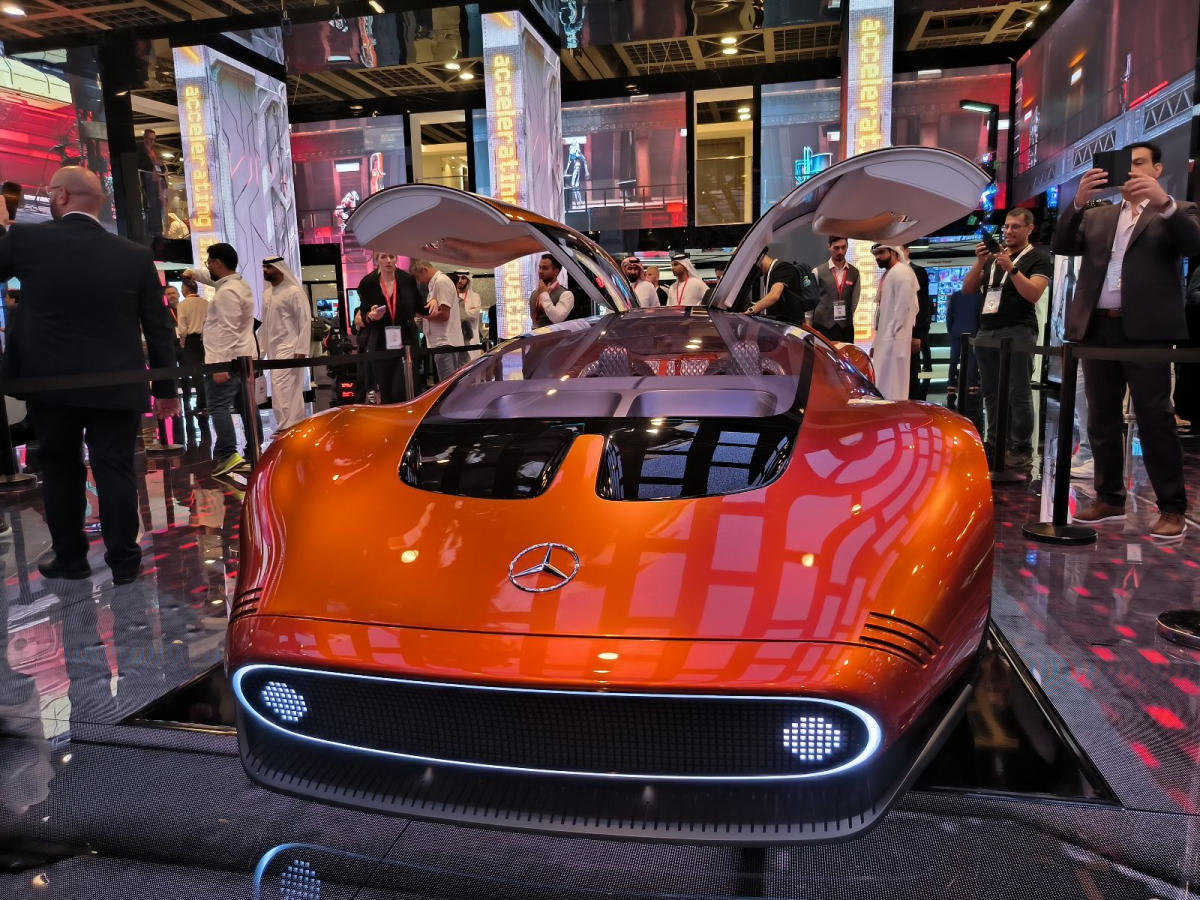 Key trends. The reign of AI and sustainable cities
AI and ML
"Imagine AI in everything" was the key topic of GITEX 2023, and it definitely showed.
A substantial number of solutions presented at the expo had to do with artificial intelligence and computer vision. And being the main focus of the conference, AI and ML technologies had their own dedicated pavilion.
Autonomous tech, AI-powered smart recruiting, and all sorts of applications based on OpenAI's ChatGPT littered the halls of GITEX Global. Some solutions integrated smart chatbots with eCommerce platforms, others empowered agritech and fintech applications with machine learning.
Smart city solutions
This GITEX saw a lot of urban infrastructure-focused solutions both in the software and hardware departments.
Digital twin technology remains highly relevant, as Dubai Municipality is working on creating a complete digital copy of the city. The technology will be used to efficiently plan building projects, services distribution, roadworks, and other infrastructure-related programs.
The organisation is also working on implementing delivery via drones on a citywide scale, though with some area restrictions based on the height of buildings and other factors. But that's not all for the skies of Dubai.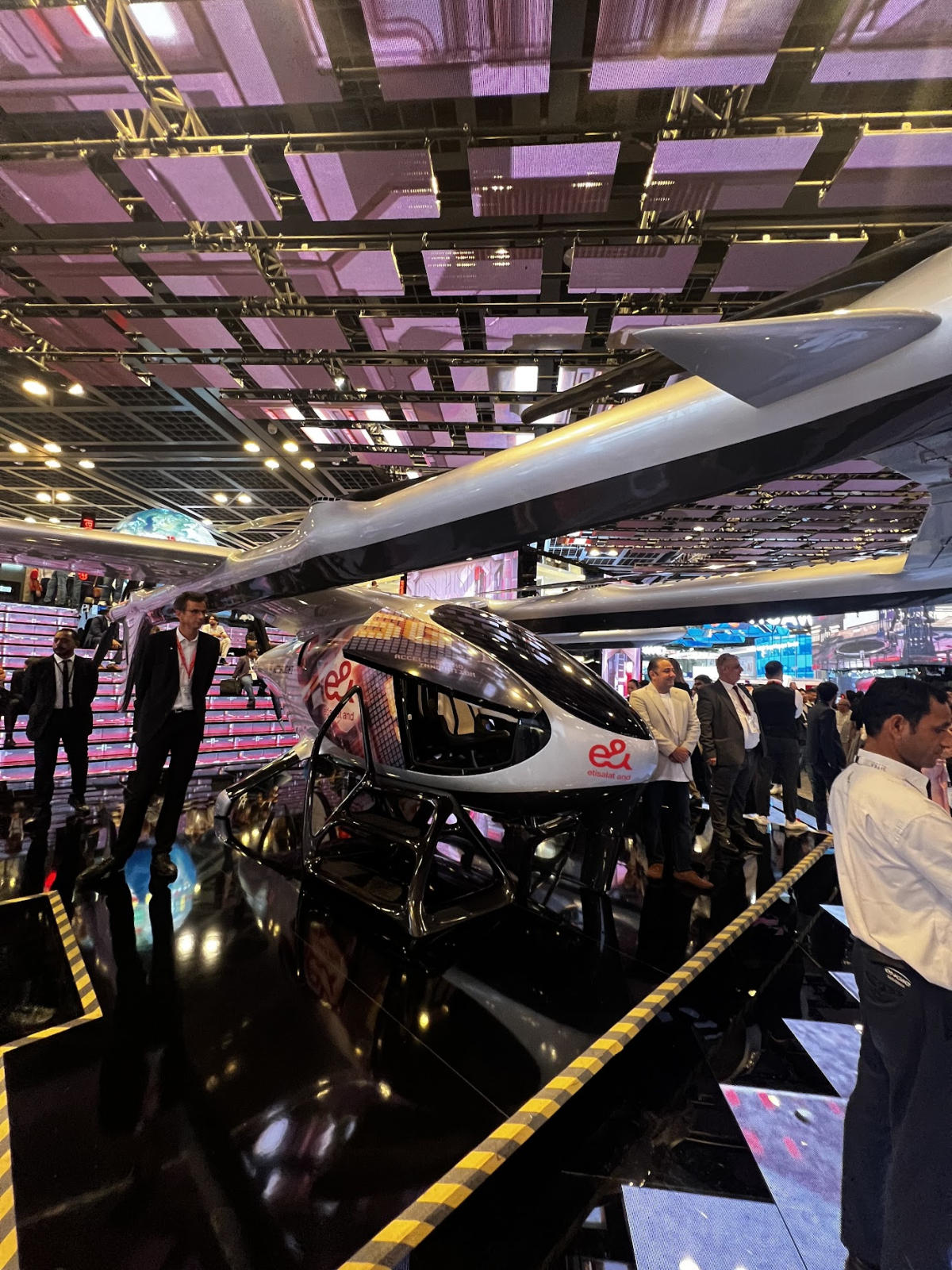 The future of urban commute is closer than ever. Remember that ETisalat helicopter from earlier? Well, Dubai's helicopter taxis, which have been in development for the past several years, are now excitingly close to launch. The city police are currently undergoing training to learn how to operate the airborne vehicles.
The concept is not just a cool idea for the sake of it: it has the potential to be a green game changer, providing a reliable alternative to urban transportation on congestion-prone roads.
Continuing established trends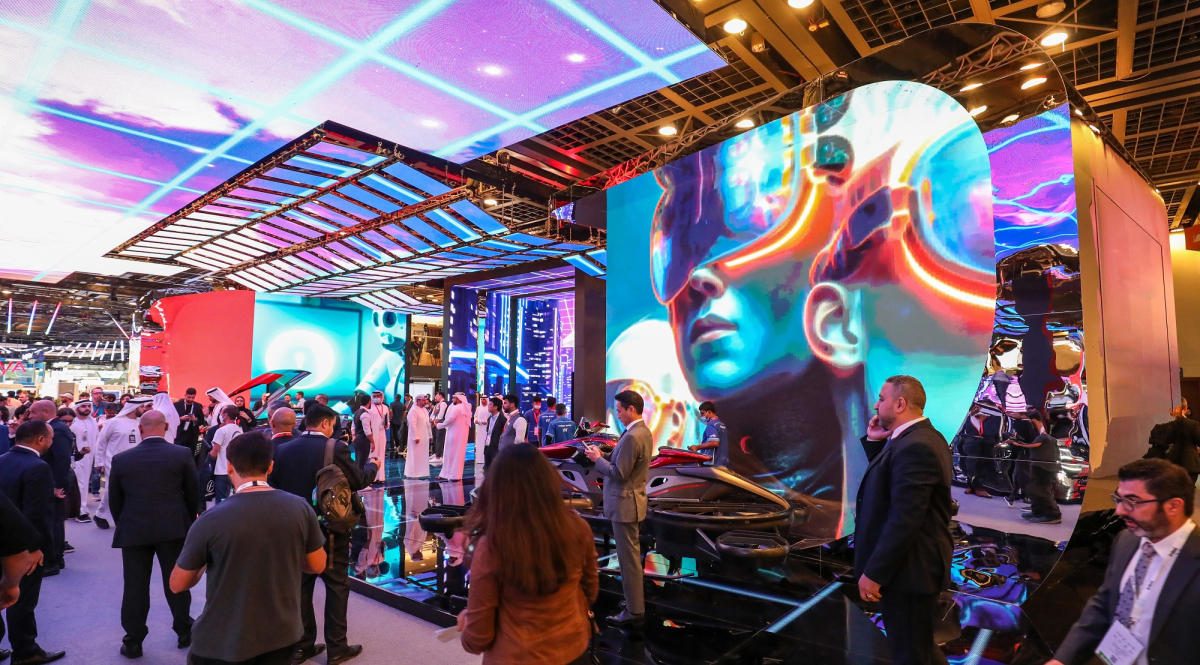 Data and cloud applications, as well as AR and VR technologies continue to be highly relevant. The same goes for cybersecurity technologies and even food delivery solutions, the latter of which experienced a boom a couple of years back.
The Healthcare sector received a lot of attention this year, with everything from telehealth and diagnostic solutions to hardware appliances (e.g. advanced robotic arms) being present at the exhibition. And it wasn't just limited to us humans: this GITEX also featured a surprising number of animal care solutions.
Interestingly, automotive wasn't as present as usual this time around. In turn, a number of new trends seemed to have emerged at this year's conference.
New developments
While sustainability has been highly relevant in the European tech scene for a while, it has been steadily gaining traction in the Gulf region as well. This was reflected in this year's GITEX lineup, which included discussions on green technology and minimising carbon emissions.
On a less endearing note, military technology had a much bigger presence this year. This included drone tech equipped with computer vision to detect civilians, military personnel, and machinery in real time.
Bamboo Group at GITEX Global 2023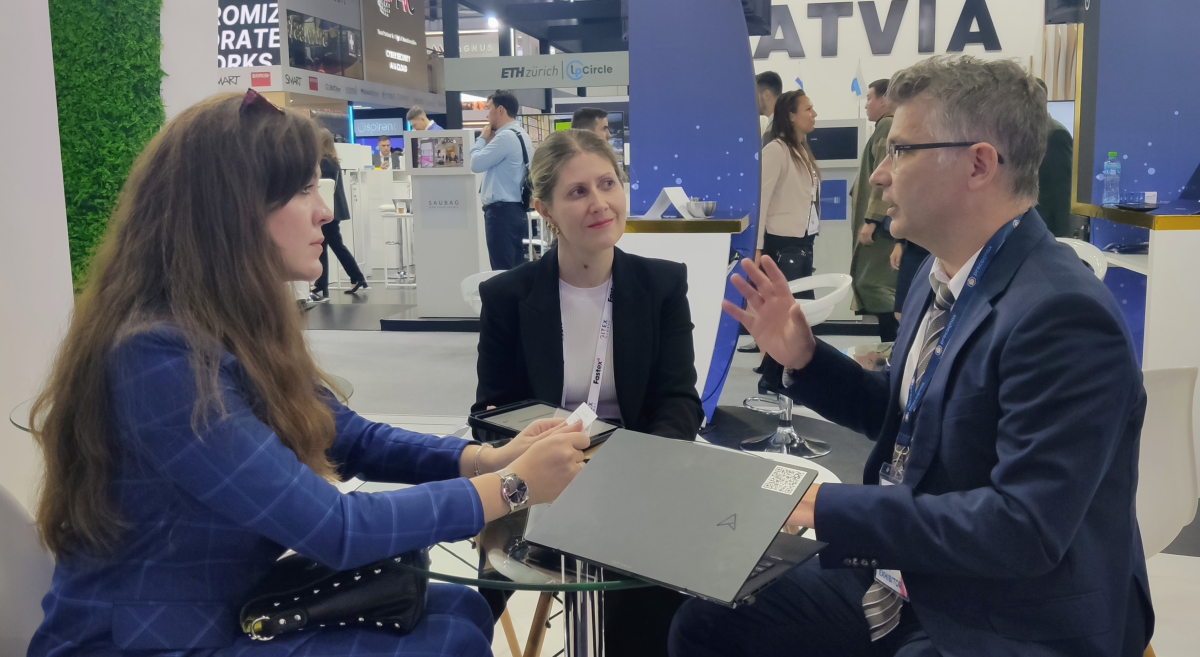 In this incredible hub of futuristic tech, Bamboo Group was at the heart of it all, showcasing its expertise in startup growth, investment, digitization, and software development.
"We did not attend as an exhibitor this time around and instead simply focused on meetings with new leads and established clients alike," says Natalia Minayeva, Strategic Partnerships Executive. "As a result, this year was phenomenal in terms of connections."
Bamboo Group representatives Natalia Minayeva and Varvara Tolstik held over 50 meetings over the course of the event. And this was not a quantity over quality scenario – each brought something new and exciting to the table, each opened a new innovative opportunity.
"We exchanged industry strategies and discussed potential partnerships with top companies in the region and beyond, including the Dubai Municipality itself," says Varvara, the Business Development Manager at Bamboo Group. "From food delivery to Fintech, our new connections managed to cover a large variety of domains. This is the kind of cross-industry collaboration that defines Bamboo Group's expanding ecosystem."
Conclusion
As GITEX Global 2023 came to a close, Bamboo Group was left deeply thankful for the incredible experience. This year's GITEX was an inspiring journey of exploration and connection, and Bamboo Group looks forward to building on the valuable relationships and insights gained here.
We extend our gratitude to the event organisers for their meticulous planning, exhibitors who brought groundbreaking technologies to the forefront, and everyone who met with the team during the event.